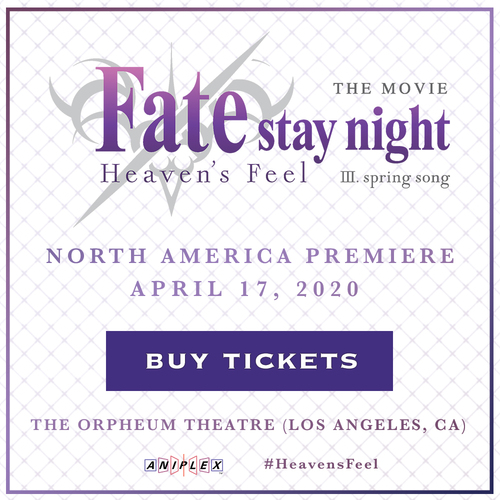 Aniplex of America is ecstatic to present the North American premiere of Fate/stay night [Heaven's Feel] III. spring song on Friday, April 17, 2020 at The Orpheum Theatre in downtown Los Angeles.
This highly anticipated film is the last chapter of the critically acclaimed Fate/stay night [Heaven's Feel] trilogy.
The premiere will begin at 7:00PM (PST), with doors opening at 4:30PM (PST) to give attendees a chance to buy exclusive merchandise - fans will also get a special giveaway! Set your alarms now because tickets go on sale Friday, February 28, 2020 at 11AM PST.
Event Name: 
Fate/stay night [Heaven's Feel] III. spring song Premiere
Location: 
The Orpheum Theatre – 842 S Broadway, Los Angeles, CA 90014
Date & Time: 
Friday, April 17, 2020 at 7:30 PM PST
Ticket Price: 
$25 - $40
Ticket Link: 
http://bit.ly/FSNHF3LA